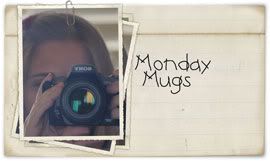 Are you in need of a mindless Monday Blog post? Are you struggling to deal with the weekend being over and can't muster the strength to type a single word? Well, Monday Mugs is for YOU! I may or may not "borrow" ideas from IheartFaces and post my interpretation of their weekly theme. Without submitting my photo for judgement and without being forced to follow the rules.
Mondays are hard! Blogging on Mondays shouldn't be!
Today's theme for Monday Mugs is: Wind
______________________________

All I wanted was a nice family photo at the beach. The first problem: we went out too late and the light was not so great. The second problem: The Wind. I really shouldn't have been surprised. Isn't that what happens at the beach? Wind? *eye roll at myself* I know I've seen pictures of people on the beach with perfect hair! Anyway, the wind was making my hair do many horrible things and the kids were freezing. It didn't help that we didn't dress them appropriately.
I was supposed to have bangs.
There goes my hair again! LOL
If you are in need of a simple Monday post, JOIN ME! Grab my
button from the sidebar and link up your own post!
Next week's theme will be: Easter