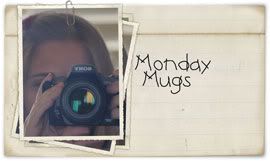 Are you in need of a mindless Monday Blog post? Are you struggling to deal with the weekend being over and can't muster the strength to type a single word? Well, Monday Mugs is for YOU! I may or may not "borrow" ideas from IheartFaces and post my interpretation of their weekly theme. Without submitting my photo for judgement and without being forced to follow the rules.
Mondays are hard! Blogging on Mondays shouldn't be!
Today's theme for Monday Mugs is: Winter
_________________________
Winter in our neck of the woods:
Nice soft, green grass that DaddyO has to re-plant every October.
Some days we can even wear shorts and no shoes when we play outside. (close your eyes Dad!)
I advised against this, but sometimes Lily thinks it's ok to wear shorts, no shoes AND a tank top!
Lots of these!
A flashback to Winter 2006.
If you are in need of a simple Monday post, JOIN ME! Grab my
button from the sidebar and link up your own post!
Monday Mugs is going to take next week, December 27th, off.
I will post a theme for January 3, next Monday.
Merry Christmas Everyone!!!