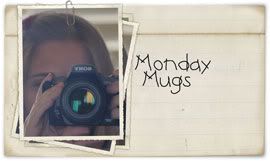 Are you in need of a mindless Monday Blog post? Are you struggling to deal with the weekend being over and can't muster the strength to type a single word? Well, Monday Mugs is for YOU! I may or may not "borrow" ideas from IheartFaces and post my interpretation of their weekly theme. Without submitting my photo for judgement and without being forced to follow the rules.
Mondays are hard! Blogging on Mondays shouldn't be!
Today's theme for Monday Mugs is: Cell Phone
(it's a good thing I didn't try to enter IHF. I did not take these with a cell phone! LOL)
_________________________________
I had to take these pictures yesterday!
And I had to bribe some of the participants.
No. That is not Lily's phone.
Yes. Lily is wearing make-up. She put on a dance performance
that required make-up and several wardrobe changes!
Whenever this little
stinker
cutie gets a hold of my phone she manages to call someone!
If you are in need of a simple Monday post, JOIN ME! Grab my
button from the sidebar and link up your own post!
Next week's theme will be: Whatever the Heck You Want!