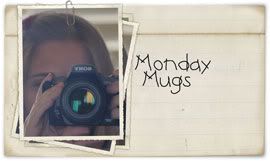 Are you in need of a mindless Monday Blog post? Are you struggling to deal with the weekend being over and can't muster the strength to type a single word? Well, Monday Mugs is for YOU! Because on Mondays, I need some motivation, I may or may not "borrow" ideas from IheartFaces and post my interpretation of their weekly theme.
Mondays are hard! Blogging on Mondays shouldn't be!
Today's theme for Monday Mugs is: Thankful: Week 2
______________________________
Last week, I was thankful that this boy got a Game Ball for having such a great game on Saturday.
My little slugger wasn't feeling well and made EVERY attempt to get out of playing. But with some clever bribery, I talked him in to participating in the game. They were playing their toughest competition of the season, and by the 3rd inning the other team was up 1-0 with a few of our REALLY good players striking out. Bailey got up to the plate with one teammate on 2nd and he hit the ball to bring him home and tie up the game. On the next hit, Bailey was able to make it home and put his team in to the lead. After that, the rest of the team followed suit and they were able to win 1-10. This was Bailey's first Game Ball after playing with this team for 3 seasons. He was due. I was so happy for him! He was pretty pleased as well.
____________________________
If you are in need of a simple Monday post, JOIN ME! Grab my
button from the sidebar and link up your own post!
The theme for next week's Monday Mugs will be: Thankful: Week 3
I am going to do something a bit different for
November and each week I will post something
I was thankful for the week before.
Hopefully with a picture to go with it.