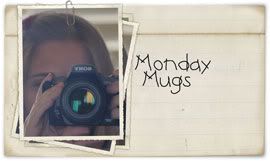 Are you in need of a mindless Monday Blog post? Are you struggling to deal with the weekend being over and can't muster the strength to type a single word? Well, Monday Mugs is for YOU! Because on Mondays, I need some motivation, I may or may not "borrow" ideas from IheartFaces and post my interpretation of their weekly theme.
Mondays are hard! Blogging on Mondays shouldn't be!
Today's theme for Monday Mugs is: Thankful: Week 1
_____________________________

Last week, I was thankful that ALL of my trick-or-treaters were feeling good enough to go out and beg for candy. On any other day they had congestion, coughing, sore throats, chapped lips and some of them were puking. I was afraid I was going to have to go out and explain why I was trying to get candy for a sick kid(s). Here they are right before we left to fill their trick-or-treat bags! Miss Daisy wasn't missing one ounce of her spunk when I told asked everyone to look at the camera, she turned away.
I was also thankful for being able to catch moments like these
without
waking anyone up!
*Thankful Thought overlay is a free download from
aliedwards.com
*
____________________________
If you are in need of a simple Monday post, JOIN ME! Grab my
button from the sidebar and link up your own post!
The theme for next week's Monday Mugs will be: Thankful: Week 2
I am going to do something a bit different for
November and each week I will post something
I was thankful for the week before.
Hopefully with a picture to go with it.