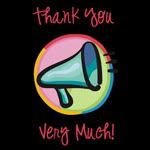 I think I need a little more than therapy this week although I'm not sure what! You should really try
Kmama's
weekly therapy or at least check out all the other therapy sessions.
Thank You Very Much to my very frazzled brain which has been screwing things up ALL week!
On a normal week, I help out in Ashton's class on Wednesday and Bailey's class on Thursday. So my silly brain could not wrap itself around the idea that Bailey's holiday party was on Wednesday and Ashton's party was on Thursday. For some reason I thought they were both on Thursday and I was shocked and filled with guilt when Bailey came home from school yesterday and told me about his party! I remembered to make treats for the class but totally missed the festivities! Dopie brain, thank you very much.
It has also made matters worse that I can't seem to figure out what day it is! All day yesterday I thought it was Thursday. I said to Lily, in a very excited voice, "It's Survivor night!!!"
She very sweetly rolled her eyes and said, "Mom, it's Wednesday!"
And now, something to ponder, if I thought yesterday was Thursday why wasn't I planning on going to the boys school parties? Preesh8 ya, dim wit!
I think I need this week to be over AND a nap!
Alrighty, the therapy session and this photo have helped me feel much better!
Now I just need a nap!!