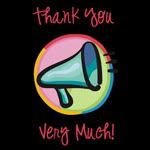 It is time for
Kmama's
weekly therapy session. If you need some therapy, link up or just hop over and enjoy all the other thankfulness!
To the doctors that think it's funny to scare the crap out of us every few months, thinking there is something wrong with Daisy, Thank You Very Much!
It all started at her 20 week ultrasound. There was fluid in her kidneys. I tried not to panic, but there was no change at a follow-up ultrasound one month later. Then, of course, I worried about the worst case scenario. Another month of worrying and a Level II ultrasound with a specialist showed that Miss Daisy's kidneys were clear and perfectly normal! Thank you so much!
At Daisy's 2 month well-check visit, the doctor said she had a heart murmur. Again, an entire month of worrying before we could get an appointment with a cardiologist. EKG's, ultrasounds and evaluations showed that Daisy DID NOT have a heart murmur! The cardiologist said that since babies are so small it is easier to hear their blood flowing which the original Doc thought was a valve not closing all the way. He also said they like to see "normal" hearts from time to time. Thanks for making me drive across town and making me pay a "specialist" co-pay just to be told that my baby is "normal!"
Does this look like a sick baby to you?