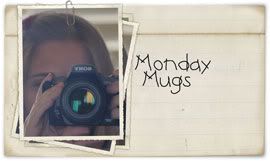 Are you in need of a mindless Monday Blog post? Are you struggling to deal with the weekend being over and can't muster the strength to type a single word? Well, Monday Mugs is for YOU! I may or may not "borrow" ideas from IheartFaces and post my interpretation of their weekly theme. Without submitting my photo for judgement and withoutt being forced to follow the rules.
Mondays are hard! Blogging on Mondays shouldn't be!
Today's theme for Monday Mugs is: Black and White
___________________________________
About 9 years ago we bought Lily a special
outfit to wear on Thanksgiving.
There is an infamous story about that day
here
.
Thanksgiving 2001
Lily - 20 months
All of Lily's pics had to be scanned
which led to not-so-decent quality.
Dang my foolishness for putting her up against such a
dark background! It makes it very difficult to
see just how much hair she had.
This year it was Daisy's turn to wear
the darling outfit for Turkey Day!
Thanksgiving 2010
Daisy - 28 months
Please excuse me! Daisy had too many 'success stories' while I was
collecting evidence of my girlies wearing the same outfit!
If you are in need of a simple Monday post, JOIN ME! Grab my
button from the sidebar and link up your own post!
Next week's theme will be: Self Portrait