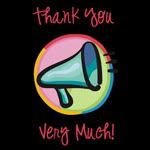 Brought to you, for the last time, by Kmama
____________________________
Today is a very sad day for me! It is the last regularly scheduled and linkied Thank You Very Much! I will miss my weekly FREE therapy!
In honor of TYVM, and because I have a blaring headache, I am going to relive some of my best TYVM moments from the past year. I'm going to make
you
relive them too! Bwahahahahaha
To my eyebrow for requiring wax and painful strips for me to be seen in public. And once I have separated you, leaving me with an attractive rash/acne in the area where you used to reside. You are making it impossible for me to leave the house, Thank You Very Much! 3-11-10
To the person at our house who was responsible for giving Daisy a bath the other night. Thank you very much for keeping an eye on her from the other room where I know you could see her but couldn't get there fast enough to stop her from pulling my towels in to the tub with her. Then after realizing she was probably done playing in the tub, washing her hair before you got her out of the tub. I'm sure it was shocking when after the third cup of water to rinse the shampoo you noticed an odd object floating in the tub. Yes indeed, Daisy had pooped in the tub. So, now my towels, EVERY bathtub toy, the tub and Daisy needs to be disinfected Thank You Very Much! Who could this unnamed person be? I'll give you one guess! 3-18-10
To the lady at the baseball game who shared her crack with us the entire game, Thank You Very Much. EVERY time she would lean forward to get her drink, her 'way too low rider' pants would sink further down and reveal way too much of her very unattractive g-string! We're here for some baseball, not a peep show, Thank You Very Much. Get some pants that fit your fat bumper! 4-29-10
To HeatherOz, for trying to walk through a door while holding two babies without turning sideways! Yep! Poor Daisy got a small surprise when her little head bumped(not hard) the door frame. Screw your head on tight HO(my initials), Thank You Very Much! 5-6-10
To Kmama for publishing a post about adult acne problems. Thank You Very Much! Your blog is contagious! After reliving my lifelong acne troubles and proceeding to have an anxiety attack remembering high school, I now have a huge, blind zit on my neck! It is very painful AND very unattractive. Maybe if I didn't have so many wrinkles, people would just think I was a pimply teenager! Ha Ha Ha! I ♥ ya Kmama! Just letting you know you are not alone! 5-20-10
To the nasty bug, that I thanked last week for making Daisy sick, Thank You Very Much for making Ashton, Bailey AND me sick! I told you NOT to come near us! You've turned us in to a Chorus of Coughers that can repel people wherever we go!
Go Away! 6-17-10
To DaddyO and Lily, Thank You Very Much for wrestling and bouncing around on the bed while I am trying to type this post! Don't you guys know that blogging comes before bonding?
I kid, I kid! Bounce Away! 6-24-10
To DaddyO, Thank You Very Much for smacking me in the head with a magazine while trying to kill a fly. And saying "You have to hit them hard or they don't die" How about you wait til the fly lands somewhere other than MY HEAD!!! 9-15-10
You can see why I need therapy, right? Today is your last chance to link up with
Kmama and Thank You Very Much!