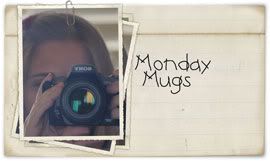 Are you in need of a mindless Monday Blog post? Are you struggling to deal with the weekend being over and can't muster the strength to type a single word? Well, Monday Mugs is for YOU! I may or may not "borrow" ideas from IheartFaces and post my interpretation of their weekly theme. Without submitting my photo for judgement and not being forced to follow the rules.
Mondays are hard! Blogging on Mondays shouldn't be!
Today's theme for Monday Mugs is: Halloween
_________________________
As Bailey would say, it is October 31th! I can't wait to see every one's costumes or jack-o-lanterns or how you frightened the trick-or-treaters or how you turned off all your lights and pretended not to be home!
Here are my trick-or-treaters!
The Grumpy Gypsy
She cheered up a few seconds before it got too dark!
The Sheriff
Don't piss him off!
The Construction Worker
Check out those abs!
The Wee Little Witch
Daisy! Look over here! Daisy! Look over here!
If you are in need of a simple Monday post, JOIN ME! Grab my
button from the sidebar and link up your own post!
Next week's theme will be: Best Friends