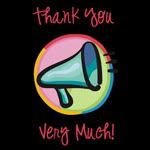 Brought to you by Kmama
_______________
I am just beating the buzzer again tonight! PST can come in handy in the bloggy world!
To Daisy, Thank You Very Much for taking Ashton's shoes with you in to the bathtub! All I can say is, "WHY!?!?!" and "Ahhhhhhhhhhhhhhhhhhhhhhhhhhh!"
To my curling iron, Thank You very Much for jumping out of my hands, rolling down my arm and leaving a very attractive blister! Work with me!
To my overwhelming To Do list this week, Thank You Very Much for making it impossible for me to keep up with all my bloggy friends! I promise to catch up this weekend!
It's probably a little too late for you this week, but you should definitely try a little sarcastic therapy next week!
Kmama
can help!