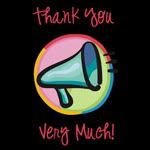 _______________________
To my darling children (except Lily), Thank You Very Much for removing all of the FOLDED laundry from the laundry basket and throwing it all over my room! I REALLY wanted to re-fold all of the clothes!
To Student of the Month assemblies, Thank You Very Much! It is bad enough that I tear up when my own children are receiving this award, but it's just embarrassing when I am wiping away tears for
other
people's children!!
To the landscapers/very motivated homeowners, Thank You Very Much for revving up your trimmers and leaf blowers at 5am! It's Fall Break people. I don't
need
to wake up 'til 6:30am!!
To Ashton, Thank You Very Much for letting me know that I am the worst mother you've EVER had!
I don't think he appreciated it when I laughed!
Anyone you need to thank this week? Go get your free therapy, today! Visit
Julie
!