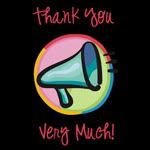 Free Therapy Courtesy of Kmama
___________________
Thank You Very Much to Daisy's new obsession with "DaBBa"(yo gabba gabba). I CAN NOT get those
annoying
educational songs out of my head! "Don't bite your friends! Don't bite your friends!"
To the mosquitoes, Thank You Very Much for cutting short our trip to the park yesterday morning and our bike ride/walk last night. It's been hours since we were outside and we are all still smacking arms and legs and heads, unconsciously thinking you are still there! Oh, and this morning? Bailey is covered in humongous mosquito bites. Ashton and I have little nibbles but nothing like poor Bailey.
If you are in need of some therapy, link up with
Kmama at The Daily Dribbles
!