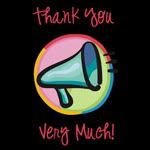 Courtesy of Kmama!
____________
To Bailey, Thank You Very Much for taking my cell phone with you to the bathroom and proceeding to call me EVERY 1.5 minutes on the home phone. Get a book Bay! I am not your 'potty entertainment'!
To my alarm clock, Thank You Very Much for allowing me to completely sleep through hitting the snooze button TWICE before I realized I needed to get my butt out of bed! Get off the easy listening channel and turn yourself up a few notches! Your current settings are ineffective!
To the Lady who parked her car in the parent pick-up lane at school, Thank You Very Much for forcing me to roll down my window and point out that you were blocking traffic! Can't you see the cars moving ahead of you and the big line of cars, waiting to move forward, behind you? Get back in your car!!!!!!!!! (I asked her in a much nicer way through gritted teeth)
You know you need some therapy! Give it a try and link up with
Kmama
!