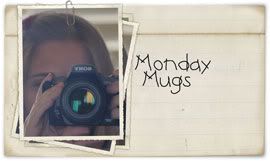 Are you in need of a mindless Monday Blog post? Are you struggling to deal with the weekend being over and can't muster the strength to type a single word? Well, Monday Mugs is for YOU! I may or may not "borrow" ideas from IheartFaces and post my interpretation of their weekly theme. Without submitting my photo for judgement and without being forced to follow the rules.
Mondays are hard! Blogging on Mondays shouldn't be!
Today's theme for Monday Mugs is: Just One Pic From Last Week
_______________________________
This picture is not spectacular to look at. There's not even a Cutie to be seen. But, there is mystery involved. This is a picture of where Frank lives. Frank is our pet fish. Frank's tank is surrounded by family photos. Normally, the pictures are facing outward so we can admire them as we are feeding Frank or just walking by his home. But someone in our house feels that a. Frank is lonely, b. Frank deserves a turn to admire the photos or c. it's funny to make me turn all the photos back around. This happens frequently. I think it's kind of funny. I honestly don't know who is responsible.

Can you see Frank? It looks like he might actually be admiring the photos. HA HA HA!
_______________________________
If you are in need of a simple Monday post, JOIN ME! Grab my
button from the sidebar and link up your own post!
Next week's theme will be: 3