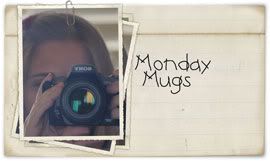 Are you in need of a mindless Monday Blog post? Are you struggling to deal with the weekend being over and can't muster the strength to type a single word? Well, Monday Mugs is for YOU! Because on Mondays, I need some motivation, I may or may not "borrow" ideas from IheartFaces and post my interpretation of their weekly theme.
Mondays are hard! Blogging on Mondays shouldn't be!
Today's theme for Monday Mugs is: Thankful: Week 3
______________________________________
Last week, I was thankful that Lily and I were able to sneak away to see Breaking Dawn. Even though the movie theater parking lot was packed, we got a great parking spot. We were in line an hour and a half before the movie started and there were only 6 girls in front of us. We got our favorite seats. And we thought Breaking Dawn was the best Twilight since the first one.
Last week, while DaddyO was out of town, I was thankful that I was able to keep my cool while this boy pushed EVERY button I possess. He is the Grand Master Button Pusher and after he's pushed, he twists!Even with visions of beatings dancing through my head, I didn't harm a single hair on his! It's a good thing he is well behaved and darling most of the time!
______________________________
If you are in need of a simple Monday post, JOIN ME! Grab my
button from the sidebar and link up your own post!
The theme for next week's Monday Mugs will be: Thankful: Week 4