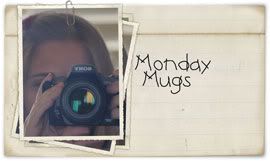 Are you in need of a mindless Monday Blog post? Are you struggling to deal with the weekend being over and can't muster the strength to type a single word? Well, Monday Mugs is for YOU! Because on Mondays, I need some motivation, I may or may not "borrow" ideas from IheartFaces and post my interpretation of their weekly theme.
Mondays are hard! Blogging on Mondays shouldn't be!
Today's theme for Monday Mugs is: Holiday Treats
___________________________________
I am determined to make this the sweetest holiday ever!
Starting with : Gingerbread Bars (recipe below)
featuring my adorable assistant, Daisy.
Next, we made Molasses Cookies.
Miss Assistant absolutely LOVED rolling the dough in the sugar and licking her hands after every roll. LOL
I did have a few minor mishaps.
1. Most of my kids did not enjoy the orange zest in the frosting of the gingerbread bars
2. The molasses cookies recipe was for "Giant" sized cookies. I didn't make giant cookies and it took a few batches before I got the cooking time just right.
and, 3. My uncoordinated left hand decided it would be nice to introduce my right arm to the cookie sheet.
Attractive, no?
*special thanks to Bailey for snapping this pic of my arm*
___________________________________
If you are in need of a simple Monday post, JOIN ME! Grab my
button from the sidebar and link up your own post!
The theme for next week's Monday Mugs will be: Santa's Elves
Gingerbread Bars with Orange Frosting
3/14 cups all-purpose flour
2/3 cup sugar
1/2 cup margarine, softened
1 cup water
2/3 cup light molasses
2 eggs
2 tsp baking soda
2 tsp pumpkin pie spice
4 cups powdered sugar
1/2 cup margarine
1/4 cup milk
1 tsp freshly grated orange zest
red and green sprinkles, if desired.
*I didn't make frosting. I used store bought and just added some orange zest*
*Heat oven to 350degrees. Combine all gingerbread ingredients in a large bowl. Beat at medium speed, scraping bowl often, until well mixed.
*Pour batter into greased 15x10x1-inch jelly-roll pan. Bake for 18-20 minutes or until toothpick inserted in center comes out clean. Cool completely.
*Combine frosting ingredients except sprinkles in large bowl. Beat at medium speed until creamy. Frost cooled bars. Decorate with sprinkles, if desired. Makes 60 bars.
Giant Molasses Cookies
1 1/2 cups butter, softened
2 cups sugar
2 eggs
1/2 cup molasses
4 1/2 cups all-purpose flour
4 tsp ground ginger
2 tsp baking soda
1 1/2 tsp ground cinnamon
1 tsp ground cloves
1/4 tsp salt
1/4 cup chopped pecans (i didn't add these)
3/4 cups coarse sugar
1. In a large bowl, cream butter and sugar until light and fluffy. Beat in eggs and molasses. Combine the flour, ginger, baking soda, cinnamon, cloves and salt; gradually add to creamed mixture and mix well. Fold in pecans.
2. Shape into 2-in. balls and roll in coarse sugar. Place 2 1/2-in. apart on ungreased baking sheets. Bake at 400degrees for 16-18 minutes or until tops are cracked. Remove to wire racks to cool. Makes 2 dozen
This week, I am going to make Lacy Brandy Snaps. Wish me safe baking!