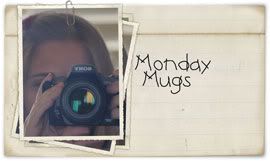 Are you in need of a mindless Monday Blog post? Are you struggling to deal with the weekend being over and can't muster the strength to type a single word? Well, Monday Mugs is for YOU! Because on Mondays, I need some motivation, I may or may not "borrow" ideas from IheartFaces and post my interpretation of their weekly theme.
Mondays are hard! Blogging on Mondays shouldn't be!
Today's theme for Monday Mugs is: Santa's Elves
___________________________________
I've got 4. How many do you have?
Look! This one is even smiling.
If you are in need of a simple Monday post, JOIN ME! Grab my
button from the sidebar and link up your own post!
Monday Mugs is going to take a break until January 9, 2012. I will announce a theme sometime before then.
Happy Holidays Everyone!!!!!!!!!!
**Angi! @ Messy Cars and Muddy Shoes! I thought I had figured out a way to leave you comments but it didn't work. I changed my computer settings and then as soon as I was done commenting, I was going to change everything back. Sadly, it is still giving me an error message that says I don't have access to that page. :( I LOVED your gingerbread houses! I was so impressed that you guys
made
the gingerbread!