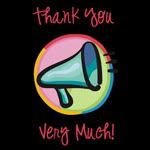 I had a list of people/things to thank today, but all I am going to say to them is "Bless Your Hearts!"
All of my aggravations were forgotten this morning because of this sweet girl:
Daisy slept through the ENTIRE night!!!!!!!!!!!
She went to bed at 8pm and when I woke up in a panic at 6am, she was STILL asleep. I really hope this is a sign of things to come! That she is just going to figure it out on her own with no training/baby torture!
A very sincere and heartfelt Thank You Very Much to Miss Daisy!
Keep up the good work Baby! Sleep tight!!
I will save my therapy session, courtesy of
Kmama at The Daily Dribbles
, for next week!