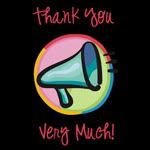 There were no sleep filled nights this week to help me get out of my therapy session! If you could use some Thank You Very Much Therapy or if you find it theraputic to hear about other people's problems, hop on over to Kmama's
The Daily Dribbles
.
Let's get started, shall we?!
To Bailey, Thank You Very Much for removing the bar of soap from the shower after I told you not to. I was not happy the next morning when I had to decide between leaving the warmth of the shower to find soap or having to shave my legs with shampoo! FYI I did not get out of the shower!
To the rain, Thank You Very Much! We have been waiting for you to show your face for over 2 months! Why why why do you decide to show up as soon as Lily's soccer game starts? It is not convenient or fun to keep 3 kids warm and dry while I watch my oldest child attempt to play sports. And so you know, Lily does not have windshield wipers on her glasses and you are making it very difficult for her to see where she is going let alone try to kick a ball, thank you very much! Oh, and thanks a lot for raining enough to make us cold and damp but not enough for the Referees to cancel the game!
Once again, Thank You Very Much to the flu! I appreciate you making Daisy sick now and ruining any chances of her sleeping through the night. For cryin' outloud, GO AWAY!
Whew! I needed that!
p.s. I have jury duty tomorrow and will probably need some serious therapy next week!