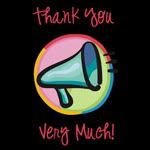 It is time for my weekly therapy session. If you need to get some aggravations off your chest, head on over to
The Daily Dribbles
. Try it, you'll like it!
To the flu shot, Thank You Very Much for doing such a good job at protecting us from the flu. Lily and I are both sick today with symptoms that YOU are supposed to prevent. I guess I can look forward to the entire family NOT being protected by you!
To the flu, Thank You Very Much for making me feel like crap. It is so sweet of you to make me sick while my kiddos are sick so I have to take care of said sickos while feeling sick (how many times can you use the word "sick" in a sentence?). Thank You So Much, FLU, for keeping me up all night, so instead of having an elaborate and witty Thank You Very Much Post, I have to go take a nap instead!
Thank you Kmama for allowing me to yell at my imaginary friends. I do feel better having given them a piece of my mind (what's left)!