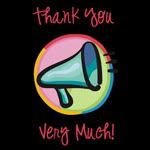 It's Thursday! *happy dance*
Free Therapy Day courtesy of
Kmama at The Daily Dribbles
.
To Ashton for saying unbelievabley horrible WORDS while we were at the doctor's office. I don't need this distraction while I am discussing your sister's no-symptom-ear-infection problem, Thank You Very Much!
And just in case the Dr. and I didn't hear it the first time, Thank You VERY Much Bailey for making sure by tattling on Ashton and REPEATING the words right in front of the doctor. Now there is absolutely no way I will get my Mother of The Year Award!
Thank You Very Much boys for reminding me that I am most likely the one who taught you these words. In my defense, I can not help myself when I am yelling at bad drivers!
To my energy for sucking all of the motivation right out of my body and forcing me to lounge on the couch and watch tv instead of keeping up with my Blog Roll! I have friends to visit Thank You Very Much!
Go visit
Kmama
and receive your free therapy, TODAY!