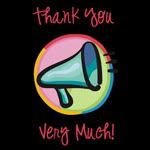 Oh Yeah! It's FREE Therapy Day courtesy of
Kmama at The Daily Dribbles
!
To myself, for
accidentally
forgetting to unthaw the dough to make hamburger buns! Forcing me to order pizza instead of making hamburgers for dinner, Thank You Very Much! Not only did I not have to cook, because I made the kids use napkins for plates, I didn't have to do dishes! Love ya Forgetful Brain!
To my Smarter Than Me Children, Thank You Very Much for coming up with new and interesting ways to get out of eating your dinner. The other night, DaddyO caught Bailey trying to leave the table looking like this:
Sir? I know your older sister taught you this and I'm sure it has worked for you in the past, but we don't think it's funny to cram as much food as you can in to your mouth and then go spit it out in the toilet! (actually DaddyO and I both think that is hilarious) Please don't start hiding napkins full of food in the cupboards, like your sister does, Thank You Very Much!