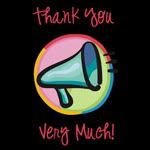 My therapy session for today is all about helping me deal with road rage! If you need some "Thank You Very Much" therapy, join in or visit Kmama at
The Daily Dribbles
.
To the red light running lady driving around town, Thank You Very Much! I'm sure you got your drivers license out of a cracker jacks box, but even my 6 year olds know that you are supposed to STOP when the light turns red. And thank you very much for raising your arms in disbelief after I honked at you, like you had absolutely no idea you did anything wrong! Honey, THERE IS something wrong when my light is green and you are just entering the intersection from the opposite direction!
To the parents dropping their kids off at school, Thank You Very Much for speeding through the school zone. Are you kidding me? Did you forget that you were driving in a 15mph zone while your unrestrained child was sitting next to you in the fron seat? Please get a clue! There is no reason to speed when unpredictable children are in the area!
Ok, I'm not sure this helped! LOL I just got myself all worked up again over these bad drivers.