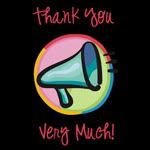 Aaahhhhh! It's therapy day hosted by
Kmama
! Yippeee!
Today I would like to thank Miss Daisy for the special treat she left in the bathtub last night. She had a messy diaper JUST before I put her in the tub but the warm bubble bath was just too enticing and she thought it would be funny to have Round 2 of #2 while she was
supposed
to be getting clean. I had to grab her quickly before she got too contaminated and hose her down in the
hazmat area
shower! I guess she didn't realize that I had been looking forward to taking a long hot bath after everyone had gone to bed last night! Luckily, DaddyO saved the day and scrubbed the tub for me! Thank you very much DaddyO!!!!!!!!
I would also like to thank myself for staying up WAY too late last night. I could barely keep my eyes open while I was watching the news, but instead of just going to sleep I thought it would be a good time to load up my new blog makeover. I, of course, ran in to some snags with the installation and wound up staying awake until after midnight. Not a good idea while trying to recover from the flu
thank you very much
!
Whooh! That felt better than I thought it would! You should give it a try!!