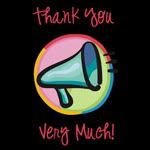 It's time for my weekly therapy session courtesy of
Kmama at the Daily Dribbles
.
I don't have too many people to thank today. I really wish I had a cartoon or picture so you could visualize how this all looked!
To the boys for boobie trapping their room with dental floss. I really enjoyed walking in to your room, in the dark, and once my leg caught the first string, dragging every toy you own with me on my way to the face plant on your floor. In my opinion, it is not a good idea to tie one very long piece of floss around every object in your room. Not only is it a waste of good floss but a
embarrassment
safety hazard,
Thank You Very Much!
It seems you are confused! When every light is off in the house and I have said "Goodnight, go to sleep," that means stay in your bed and GO TO SLEEP. OK?
Thank You!
Oh yeah! Sweet relief/release!