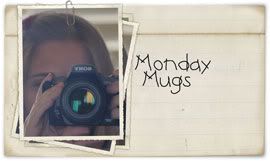 Are you in need of a mindless Monday Blog post? Are you struggling to deal with the weekend being over and can't muster the strength to type a single word? Well, Monday Mugs is for YOU! I may or may not "borrow" ideas from IheartFaces and post my interpretation of their weekly theme. Without submitting my photo for judgement and not being forced to follow the rules.
Mondays are hard! Blogging on Mondays shouldn't be!
Today's theme for Monday Mugs is: Blue
My BLUE is mixed with a bit of Red and White!

One of my favorite 4th of July traditions, is to make my kids wear festive clothes and force them to let me take their pictures.
They LOVE it, as seen in the following picture:
I did manage to get a few smiles out of them.
Lily even wore the outfit and combed her hair the way I demanded asked her to!
Miss Smiley Pants was in rare form! I never thought she'd keep the little headband on! And I usually can't get her to sit still for 5 seconds so I can get one shot. Today, she sat down on the little stool and was content to sit and smile while I shot about 20 pictures of her. She got very mad when I asked her to get up so someone else could get their pictures taken!
I even got a shot of all 4 of them together and they're all looking in the generel direction of the camera!
If you are in need of a simple Monday post, JOIN ME! Grab my
button from the sidebar and link up your own post!
Next week's theme is: Feet