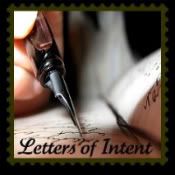 Brought to You by
Julie
, and guest hosted by the lovely
Rachel
today!
Dear Makers of Twilight Movies,
I LOVED the latest installment to the saga and am REALLY looking forward to many more viewings when Eclipse is released on DVD. But do you really have to make us wait until December 2011 to see Breaking Dawn? I don't think I can wait that long.
Sincerely,
A Loyal Twihard
Dear Customer Service Employee at The Theaters,
It was really very nice of you to exchange our 8:50pm tickets, that I purchased online, for the 30 minutes earlier showing of Eclipse. I really thought we would need to get in line an hour before the movie started but when we showed up and were the first ones in line, I realized we could have gone to the earlier show and rescued Grandpa M from the Three Musketeers that much sooner!
Sincerely,
Seriously, Thanks For Your Help
Dear Grandpa M,
Thank you soooooooooooo much for watching our 3 young kiddos, AT BED TIME, so we wouldn't have to wait another day to see Eclipse! We Love You!!
Love,
Your Daughter
Dear Fellow Twihards Waiting to Enter the Theater,
Since there were about 30 of you ahead of us in line, I was really worried that we would not be able to get my favorite seats in the theater. You know, the ones right in front, with the very handy bars to rest your feet on? I was shocked AND overjoyed that you passed right by these wonderful seats and left 3 of them empty just for us! I can't even begin to tell you how much I appreciated this!
Sincerely,
Very Grateful
Dear Followers/Friends/Lurkers,
Did you catch that? There were 3 of us at the movies last night. Obviously, Lily and I were there! But what you may not have noticed yet is that DaddyO braved the mostly teen aged Twilight fans and accompanied us to the show. Oh yes he did!
Sincerely,
LOVED Eclipse and Also, LOVED Not Having to Drive Home in the Dark (horrible night vision)
Go visit
Foursons
to read more letters and to maybe offer Julie, who had a broken and then surgeried hand this week, some words of encouragement!
Hey You Guys!
I know that surgeried is not a word!
Love,
H