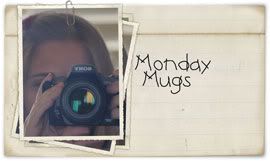 Are you in need of a mindless Monday Blog post? Are you struggling to deal with the weekend being over and can't muster the strength to type a single word? Well, Monday Mugs is for YOU! I may or may not "borrow" ideas from IheartFaces and post my interpretation of their weekly theme. Without submitting my photo for judgement and not being forced to follow the rules.
Mondays are hard! Blogging on Mondays shouldn't be!
Today's theme for Monday Mugs is:
Purple
I don't know why, but we don't have much purple.
Here is what I was able to come up with.
Lily with a couple purple stripes in her sweater.
Green must not be a big color for me either cuz this is
what she had to wear for St. Patty's Day green.
Ashton with a purple bruise on his forehead. I actually have quite a few pictures of Ashton with bruises on his head. When he falls or runs in to something it is usually head first!
Bailey wearing a purple hat on one of our cold winter days in AZ.
Daisy actually has a few pictures where she is wearing purple.
Right now, she has 1 purple shirt
hanging in her closet and this is it!
If you are in need of a simple Monday post, JOIN ME! Grab my
button from the sidebar and link up your own post!
Next week's theme will be: Sunglasses