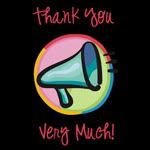 Courtesy of Kmama
I missed my session last week so I am in desperate need of therapy this week!
To my body, Thank You Very Much for operating better on 3 hours of sleep than you do on 6 hours of sleep. What's up with that? Are you trying to tell me that I should get less sleep than I already do?
To the bug that made Miss Daisy sick all last week, Thank You Very Much for sticking around for our Staycation. YOU owe an apology to 3 families (including ours) who were trying to enjoy dinner and were forced to wittness Daisy throw-up all over herself. OH, and it was very thoughtful of you to see to it that Daisy did not act sick before OR after she threw up. It makes it a little hard for us to tell what is going on when she is singing and dancing 5 minutes after losing her lunch, Thank You Very Much!
To our stupid air conditioner (1 of 2) that decided to break down last weekend, Thank You Very Much! ON.THE.DAY that I had scheduled tag-team babysitters so DaddyO and I could do some school and birthday shopping AND see a movie! I can't very well force the Grandparents to watch my kiddos in sweltering conditions, thank you very much! Get with the program, and just do your job!
To Daisy, Thank You Very Much for making it look like I just let you run wild through the house without keeping a single eye on you!
Yep, Miss Daisy with a glass potting dish, a huge fork AND the entire container of ice cream!
Go get your free therapy from
Kmama at The Daily Dribbles
.