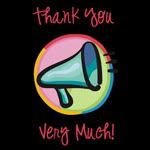 Courtesy of Kmama!
To my sweet little, hi-speed Miss Daisy, Thank You Very Much for unrolling the ENTIRE roll of toilet paper. There I go again, trying to wash my hands after changing your diaper! Babe, I don't enjoy getting my TP from a massive pile on the floor! Stop it!!
To the the crop duster that began dive bombing the field behind our house before 6am. Thank You Very Much for scaring me awake an entire hour before I needed to wake up! And I especially loved peeking out the window only to see you dive out of sight and then pull-up just in time to miss the school and fly your screaming engine right over my house. That is one crazy job you've got!
To the heat AND humidity, Thank You Very Much. You're gross! For the love, BRING US SOME STORMS!!
Alrighty then! Go get your free therapy from
Kmama
.