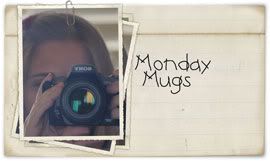 Are you in need of a mindless Monday Blog post? Are you struggling to deal with the weekend being over and can't muster the strength to type a single word? Well, Monday Mugs is for YOU! I may or may not "borrow" ideas from IheartFaces and post my interpretation of their weekly theme. Without submitting my photo for judgement and not being forced to follow the rules.
Mondays are hard! Blogging on Mondays shouldn't be!
Today's theme for Monday Mugs is: Chalk
___________________________
Although chalk covered children give me hives, my babes are allowed and do enjoy playing with chalk. I guess with all the itching, you know, from the hives, I was never able to take pictures of them enjoying chalk. I was able to capture this shot of a chalk drawing Lily made on our backyard fence. I really love it!
All my cuties in chalk!
If you are in need of a simple Monday post, JOIN ME! Grab my
button from the sidebar and link up your own post!
Next week's theme will be: YOUR Favorite Food