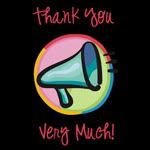 Courtesy of Kmama
_____________
To
D
addyO, Thank You Very Much for sleeping peacefully and quietly until the SECOND I put my head down on my pillow! Trying to sleep with your deafening snores is impossible! Trying to wake you up and move you to a different position is almost as difficult. Can't you control your breathing when you're sound asleep? *wink* ♥ya!
To
D
addyO, Thank You Very Much for ensuring that there is one pair of your black socks in the laundry basket for WHITE clothes only. EVERY WEEK! How in the world do most of your socks manage to make their way in to the "darks" basket except for the one sad pair that is at great risk of being bleached?
To
D
aisyE, Thank You Very Much for removing the darling outfit that I put on you and exchanging it for this:
Are you in need of some therapy? Visit
Kmama
for your free session!