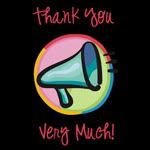 Courtesy of Kmama
_____________________
To DaddyO, Thank You Very Much for smacking me in the head with a magazine while trying to kill a fly. And saying "You have to hit them hard or they don't die" How about you wait til the fly lands somewhere other than MY HEAD!!!
To Daisy, Thank You very Much for deciding my contact case would be a fun toy, removing it from it's happy home in my bathroom drawer and making it impossible for my tired brain to locate it at midnight. Dais, I don't like putting my contact in a ramekin from the kitchen, Thank You Very Much! **update** After I purchased a new contact case, my original case was found in one of Daisy's purses!!
To the packaging of my new contact case, Thank You Very Much for stating that I should be replacing my contact case EVERY MONTH. Really?!?! oopsa-daisy! I've had my original case for YEARS!
Visit
Kmama at The Daily Dribbles
for your free therapy!