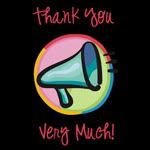 It's Thursday, and time for some free therapy courtesy of Kmama!
________________________________________
To the weather, Thank You Very Much for acting like it is still the middle of July! 109 degrees is too hot for me to sit in the shade while watching my boys run around playing sports in your stifling madness! Don't even get me started on the effects suffered by my two ball players! For cryin' out loud, IT.IS.FALL! Start acting like it!
To our DVR, Thank You Very Much for NOT recording Survivor last week. I count on you to know when my favorite show is starting its new season since I had absolutely no idea that it started last week! Before you say "a devoted fan
would
know," you should know that Survivor is the only CBS show I watch! I haven't seen ANY previews that mentioned a start date. Now I have to get caught up on the Season Premier before I can watch this week's episode and there just aren't enough hours in the day for me to watch 2 episodes in 1 week!
To our local Weather Guessers, Thank You Very Much for telling us that there was a 90% chance of rain last night and today. Those sound like pretty good chances to me, so Where Is The Freaking Rain?
Could you use a little therapy? Go see
Kmama
! It's Free!!