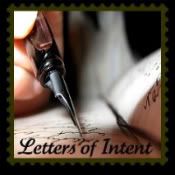 Dear DaddyO,
Problem #1: When we receive an hysterical letter from the HOA informing us of ridiculous violations, PLEASE don't throw the letter away. My first thought upon reading this letter was "This will make a perfect Letter of Intent!"
Since I didn't memorize the entire violation, I needed to refer back to this letter for my post. In an attempt to remedy the situation, I had to email the Compliance Coordinator for our HOA and ask if I could please get a copy of the letter. I did not think she would understand why I needed another letter when you had already taken care of the problem!
Problem #2: After receiving a 2nd copy of the violation letter, PLEASE do not delete the email! Now I don't have the proper information to adequately write my Letter of Intent for the second week in a row!
These problems have forced me to include
you
in my blog post for today!
Love,
Your wife who obviously needs to be more clear about her blogging needs and wants!
p.s. Thanks for playing along, DaddyO, and pre-approving this letter so I wouldn't have to skip Julie's meme this week. Everyone knows that it was impossible for you to know I would want to save a Compliance Violation letter!
Go visit
Julie at Foursons
for more Letters of Intent.