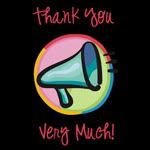 To my eye
brow
for requiring wax and painful strips for me to be seen in public. And once I have separated you, leaving me with an attractive rash/acne in the area where you used to reside. You are making it impossible for me to leave the house, Thank You Very Much!
To DaddyO for requiring 2 alarms in order to get out of bed in the morning, Thank You Very Much. First is his alarm clock that begins blaring at 5am, full blast and never exactly on a station. DaddyO does not lift an eyelid! The second alarm is ME kicking him in the back telling him to turn the hideous noise OFF! I don't need to wake up until 6am, Thank You Very Much! (once again, pre-approved by DaddyO. He told me "You're Welcome!")
Thank you very much to the automatic trash can in our bathroom for getting a stick up its sensor and flipping out just as I had gotten comfortable in bed. After trying to ignore the open-close-open-close-open-close, I had to get out of bed to
kick your butt accross the bathrrom
turn you off, Thank You Very Much!
Okie-dokie! Get on over to see
Kmama at The Daily Dribbles
to get some free therapy!