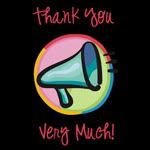 It's free therapy day!
To the pack of teenagers who decided to have Fight Club on the same field where our boys were trying to have t-ball practice. Thank you very much for scaring us and forcing us to load everyone up in the car BEFORE practice was over. For the love, can't you find something useful to do?
Thank you very much to the cops for showing up with sirens blaring and causing the hooligan teenagers to scatter in every direction. Good luck taking care of this problem!
To the person at our house who was responsible for giving Daisy a bath the other night. Thank you very much for keeping an eye on her from the other room where I know you could see her but couldn't get there fast enough to stop her from pulling my towels in to the tub with her. Then after realizing she was probably done playing in the tub, washing her hair before you got her out of the tub. I'm sure it was shocking when after the third cup of water to rinse the shampoo you noticed an odd object floating in the tub. Yes indeed, Daisy had pooped in the tub. So, now my towels, EVERY bathtub toy, the tub and Daisy needs to be disinfected Thank You Very Much! Who could this unnamed person be? I'll give you one guess!
It is now time to visit
Kmama at the Daily Dribbles
to find out what everyone else is thankful for!