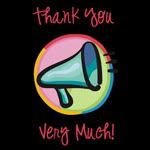 It's Free Therapy Day! Free Therapy Day! Tra-la-la-la-la!
Sing along with me everybody!
OH Ashton, Thank You Very Much for having a COMPLETE meltdown about the underwear I picked out for you this morning! I thought I was doing everything right when I chose Red Transformer underwear for you AND Bailey. Why oh why did you flip out because Bailey was wearing the ones you wanted to wear? They are EXACTLY the same! From now on, I will be doing us all a favor and let you pick out your own underwear!
To the little girl in Bailey's class, Thank You Very Much for refusing to scoot over so I could sit by my son. Even when I begged nicely! When I come to the school it is to help out the teacher, but mostly to be there and be involved for my son. You can sit by your Mom when she comes to help out! K? And NO, I am not behaving like a child by worrying about who I get to sit by Thank You Very Much!
Oh yeah! Go get your free therapy from
Kmama at The Daily Dribbles
.
And another sneak peak:
This little lady was ON FIRE yesterday! Lots of editing!