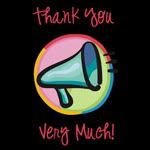 Thank goodness it is Free Therapy Day!!!
To the kid at the park, Thank You Very Much for stealing the rocking horse just as Daisy was reaching to get on! Where is your mother and why does she allow you to behave like that? You are lucky that I distracted my girl before she raked her fingernails across your leg!
Thank You Very Much to my darling boys who I normally have to drag out of bed at 7am to get ready for school, but who have gotten themselves out of bed at 6:30am every morning since they have been on Spring Break! I let you stay up late for a Wii tournament so give me a break boys! Sleep in!
To Survivor, and more specifically The Villians for giving me stomach aches and heart palpatations, Thank You Very Much. I am LOVING this season and find myself cheering for you despite your evil reputations (mostly because the heroes are poor losers). Please please please, Get rid of Russell.
No click on over and visit
Kmama at The Daily Dribbles
to find out what every one else is needing therapy for!