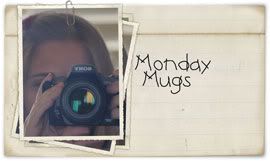 Are you in need of a mindless Monday Blog post? Are you struggling to deal with the weekend being over and can't muster the strength to type a single word? Well, Monday Mugs are for YOU! I may or may not "borrow" ideas from IheartFaces and post my interpretation of their weekly theme. Without submitting my photo for judgement and not being forced to follow the rules.

Mondays are hard! Blogging on Mondays shouldn't be!


Today's theme for Monday Mugs is: Collages
I haven't posted our Easter pictures yet and I thought they would make for an excellent collage!
I used "photo clusters no.17" layered template to make my collage (I also used frames from this kit for my Blog Header). I purchased this kit at
Designer Digitals
and used PhotoshopElements to put everything together. My collage is actually 4 separate collages (against IHF rules).
If you are in need of a simple Monday post, JOIN ME! Grab my button from the sidebar (with code, thanks to Shana) and link up your own post!
Next week's theme is: Smiles