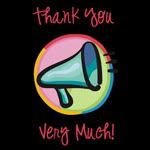 Happy Free Therapy Day!!
To
the mean old lady
who dared to walk the streets and cross my path while I was behind the wheel. You are lucky I stopped and allowed you to cross the street without mowing you down! *deep breath* Thank You Very Much!
To Bailey for reminding me that I had revoked his dessert priveleges as I was HANDING him his dessert. Oops! My bad! I can't remember everything, Thank You Very Much!
To Daisy for figuring out how to get her diaper off, even when it's under a onesie, while she was supposed to be taking a nap! Daisy! Naps are for sleeping, not stripping, Thank You Very Much!
Need some therapy? Visit
Kmama
for your free session!
Reminder: Next week's Monday Mugs theme is COLLAGES.