I am So sorry for the delay in posting this morning! Our internet had a Daisy sized meltdown lastnight just as i was finishing up this post.
On with the show!!!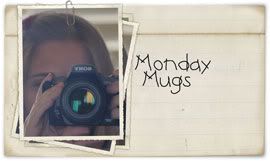 Are you in need of a mindless Monday Blog post? Are you struggling to deal with the weekend being over and can't muster the strength to type a single word? Well, Monday Mugs are for YOU! I may or may not "borrow" ideas from IheartFaces and post my interpretation of their weekly theme. Without submitting my photo for judgement and not being forced to follow the rules.
Mondays are hard! Blogging on Mondays shouldn't be!
Today's theme for Monday Mugs is: Smiles
Here are just SOME of the different types of smiles that I love!
Smiling through her fear from her first time in a swing smiles.
Smiling just cuz my Mom said "HI!" smiles.
Perfectly posed and cooperative smiles.
Baby wearing her Mom's blessing dress that was made out of HER Mom's wedding dress smiles.
Obvious that Subject is saying "cheeeeeeeeeeeeese!" smiles.
Adorable grin + little curls in the back + perfectly holding block prop + trying not to fall off the chair by holding on for dear life smiles.
Chubbing out your darling skin + pink spots between eyes smiles.
Snaggle-toothed smiles.
ToothLESS smiles.
Laughing because my Mom just talked potty talk in order to get me to smile smiles.
Smiles + dimples + wife beaters + summer tans smiles
Barely enough hair to make a curl, my Mom glued a bow on my head, still a bit snaggle-toothed smiles.
If you are in need of a simple Monday post, JOIN ME! Grab my button from the sidebar (with code, thanks to Shana) and link up your own post!
Next week's theme is: Then and Now