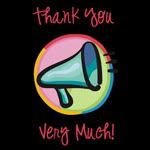 It is Free Therapy Day courtesy of
Kmama at The Daily Dribbles
.
To the lady at the baseball game who shared her crack with us the entire game, Thank You Very Much. EVERY time she would lean forward to get her drink, her 'way too low rider' pants would sink further down and reveal way too much of her very unattractive g-string! We're here for some baseball, not a peep show, Thank You Very Much. Get some pants that fit your fat bumper!
To whomever is responsible for the house next door, Thank You Very Much for allowing the power to be shut off and causing EVERY smoke detector in the place to ring 24/7 for the past week. Thank You Very Much for stopping by TODAY and finally taking care of the problem.
To the crazy hot then cold then hot then cold weather we've been having for the past month. Thank You Very Much for causing Lily and Ashton's noses to bleed at an alarming rate. In the middle of typing this post, Ashton came stumbling out of his room with a look of shock and horror that there was blood gushing down his face. Make up your mind already so my kids' nostrils can recover!
Aaaahhhhh! Much better! Go visit
Kmama
for your free therapy!