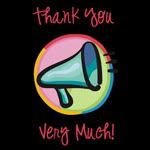 Here we go again! I CAN NOT miss my weekly therapy!
To the other parents dropping their kids off at school in the morning, Thank You Very Much for being oblivious to the unwritten rules of Student Drop-off! It is just common courtesy to let one car go in front of you when traffic is coming from 2 directions. I know you think that it will kill you to get out of the lot 2 seconds later, but it really helps get everyone out of the parking lot in a calm and timely manner. Help us out!
To the 5 milkduds that jumped in my mouth just as I was getting ready to do some exercisin'! You are not helping! Now I have to work even harder and longer to get you off my hips, Thank You Very Much
Visit
Kmama at The Daily Dribbles
to read more therapy sessions!