Well, School is O.U.T. I am really excited about sleeping in, swimming lessons, days at the pool and maybe a quick Staycation. Hopefully I can keep the fighting and bored kids to a minimum. Just thought I would show you guys what I got for teacher gifts.
Personalized Handsanitizer and a homemade card. Thanks
Kmama
, for the great gift idea!
I even got gifts from the boys' teachers. Ashton's teacher gave me some antibacterial hand soap from Bath & Body Works in delicious peach scent. And Bailey's teacher made me a perpetual calendar to keep track of birthdays and special events. I am really going to miss their teachers!
And this week I'm participating in the NEW Friday-Follow.
Ian
,
Harriet
, and
Tami
came together to create this new, awesome Friday-Follow, which allows bloggers to meet one another, as well as features different bloggers each week. To learn more about this new Friday-Follow, click on the button.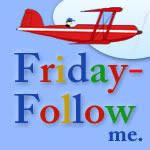 Have a GREAT weekend everybody!