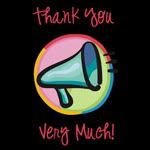 It's Free Therapy Day!
First, I would like to thank myself for failing to notice that I had absolutely no gas in my car! This wouldn't have been such a big problem if it were not for the 'below' Thank You. Pay attention, Thank You Very Much.
To the lovelies who arranged the 'Muffins for Moms' get-together at the school. Last year an event with the exact same name was for Mothers and their children, but someone failed to mention that this year it was a 'volunteer appreciation' breakfast. I didn't feed my kids breakfast, Thank You Very Much. So now, I have hungry kids who want donuts, no gas in my car and we have 20 minutes until school starts. Yeah, we're going to be late!
To the 'snowbirds' who are still driving around town, Thank You Very Much for consistently driving 15mph BELOW the speed limit and BREAKING for green lights. It's hot already! Isn't it time for you to go back to the cooler areas you came from?
Visit
Kmama
for your free therapy session!
*REMINDER*

The theme for the next Monday Mugs is: Flowers