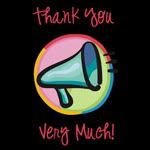 Thank goodness it's Free Therapy Day! I need me some!!
To HeatherOz, for trying to walk through a door while holding two babies
without
turning sideways! Yep! Poor Daisy got a small surprise when her little head bumped(not hard) the door frame. Screw your head on tight HO(my initials), Thank You Very Much!
To Joshua Radin for forcing me to spend $$ on itunes so I could listen to every one of his songs! LOVE! Thank You Very Much for causing me to stay up way too late because I didn't want to stop enjoying your music! I even took the laptop with me to the bathroom, so I could keep listening while I brushed my teeth.
Do you need some therapy? Visit
Kmama
for your free session!