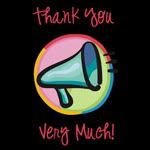 Yay
Yay
, it's Free Therapy Day!
To the spider that decided to show up while Protector #1 (
daddyo
) was not home and Protector #2 (bailey) was sound asleep! Thank You Very Much for hiding in the corner and forcing me to throw a
hacky
sack at you for 5 minutes before you finally fell to the floor so I could squish you with a shoe after chasing you along the edge of the floor! This is a warning to any other disgusting bugs that decide to crawl around inside my house: STAY OUTSIDE.......or you'll be sorry!
To the cold/flu that has made 1 member of the family at a time sick every week for the last four weeks. Thank You Very Much for causing me to spend ridiculous amounts of money on fever reduction medication to help alleviate the whining and crying coming from all my sick kids (including
DaddyO
).
To
Kmama
for publishing a post about adult acne problems. Thank You Very Much! Your blog is contagious! After reliving my lifelong acne troubles and proceeding to have an anxiety attack remembering high school, I now have a huge, blind zit on my neck! It is very painful AND very unattractive. Maybe if I didn't have so many wrinkles, people would just think I was a pimply teenager! Ha Ha Ha! I ♥ ya
Kmama
! Just letting you know you are not alone!
OK everybody! Go get some free therapy from
Kmama
!