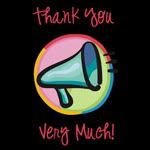 Free Therapy courtesy of Kmama!
Thank you very much to the late night soccer games, talent shows, award assemblies, water days, game days, preparing teacher gifts and many other random end-of-school activities that have made it impossible for me to keep up all of my blog reading this week. I apologize everybody! Today is the last day of school so I am hoping to catch up on Friday........night, since I will be home with my ENTIRE pack-o-kids!
Thank you very much to the ginormous spider that ran across our kitchen floor at lightning speed the other night. Um, I told you if you came in the house you would be sorry! My #1 Protector was right around the corner and immediately rescued me from your eight,very long, hairy legs!
Do you need therapy? Visit
Kmama
for your free session!